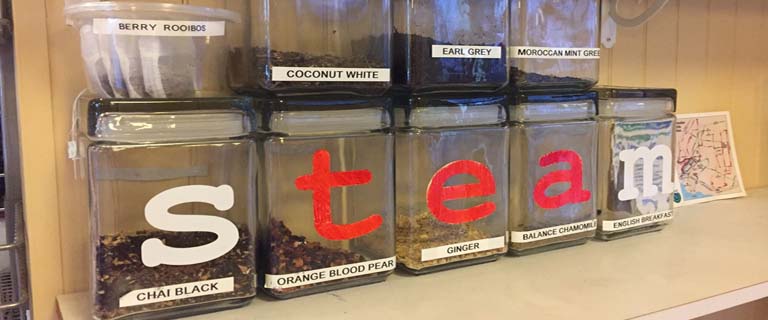 chai black
Surrender unto the mystic while meandering the back alleys of India's spice markets...amongst the tantalizing tendrils of sound and spirit, lose yourself in the gastronomy of this sensual concoction of black tea, cinnamon, cloves, and ginger...peak your experience with a dash of honey and the milk of water-buffalo.
100% Organic Ingredients: black tea leaves, ginger, cloves, cinnamon, and cardamom
blood orange & pear
Our most popular brew at the weekly Westport Farmers' Market in Fairfield County, Connecticut. A caffeine-free blend of blood oranges, pears, and hibiscus flowers delivers a luscious, bold, and ruby-red infusion.
A symphony for the taste buds! Delicious brewed hot or cold.
ginger
Ginger is well known for its ability to aid digestion and alleviate nausea, as well as anti-inflammatory properties. Sip this spicy tea to promote warmth in the body and respiratory tract, which can offer cold and flu relief.
Ingredients: organic ginger root
caffeine-free
balanced chamomile
Our most popular herbal tisane! Perfect for the summertime, our balance blend tea has notes of citrus and mint to uplift and refresh.
This tea is perfect for the whole family and is a lovely, rose-colored brew to serve for guests in glass or perhaps with a dessert!
Ingredients: Chamomile, hibiscus, lemongrass, lemon myrtle, rosehips, peppermint, spearmint, dried pears and blood oranges
english breakfast
The original classic blend that has been famous for centuries throughout the world. A delicious, tried and true elixir for health and energy. One of the few we recommend with milk and/or a touch of sugar or honey.
Ingredients: Organic blend of Chinese and Indian black tea leaves
coconut white
A slightly nutty and naturally sweet concoction, with a hint of sunshine and depth of flavor that only coconut can provide.
This tea is high in antioxidants and very low caffeine content. Also, an excellent tea for cold brewing!
Ingredients: Organic White tea leaves, organic cornflower, Safflower, organic shredded coconut and natural coconut flavor
earl grey
A masterpiece of the British tea collection, Earl Grey has earned its reputation as being the most popular tea in the Western world. The combination of fresh black tea and the sweet juiciness of citrus bergamot is just dazzling. Deep, high, far and wide...
Ingredients: Organic black tea leaves and naturale essential Oil of bergamot
moroccan mint green
Unsaddle your horse, and find refuge from the elements with this Middle Eastern staple. An invigorating infusion of cool mint and warm gunpowder green creates the perfect refreshment after a long day of work or play.
100% Organic Ingredients: Green tea leaves, peppermint, jasmine flowers